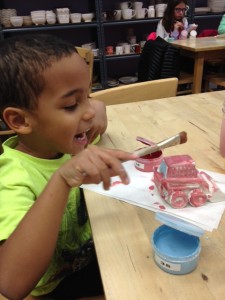 By: Amy Dienta
Lately I've been writing recipes for this blog because putting down my more personal thoughts on paper is hard. This last year has been a maze of appointments, therapists, and IEP meetings. I don't want to stop and think about any of this. I just want to see my son for who he is… my little boy.
A boy who loves cars tremendously, and loves to cuddle with me. A boy who has his issues, but has grown and learned so much over the past year. A boy who gets mad because his pizza doesn't have broccoli on it. That's my son! That's my child.
It's not that I don't want to see the pieces of him that are different, I just want for one day to not see them. Just for one day to drop him off at school to play on the playground and not for therapy. Just for once I would like to not have to deal with poop. I want to just forget it all.
So for today I'm going to take him to paint pottery, play video games, and out to lunch. Just me and him. I'm going to hug him and tell him how awesome he is, and how proud I am to be his mom! We will deal with the problems and issues another day!