By: Cyndy Muchine
Freedom!
When we speak of Independence Day, most of us think celebrate! This is a very important historic day that is relived each and every year in America and around the world. Freedom comes with a price, but when you achieve independence of any kind, it's worth celebrating, right? July 4th signifies independence from the British in 1776 and should be enjoyed. It's a day off, come on! You cannot beat that!
Most of us come out decked in red, white, and blue. These three colors are bold! Various displays of flags are held in many major cities to include a night of fireworks. This is my favorite part of the day beside the parade and gun salutes which can be unbearable to the ear, but a good reminder. Thereafter, families gather to enjoy a scrumptious barbecue or picnic.
We are constantly talking about values. Unbeknownst to many, July 4th honors the values our country is founded under. We are all a work in progress, but we must always learn and know that all of us are equal. 
Who isn't into vintage cars and fancy tractors? I grew up partially on a farm, so this right here summed up my July 4th. The smiles of each child receiving candy and attention; you can't beat that.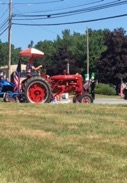 This is how a nation sets aside their cultural differences and comes together for such a patriotic moment!