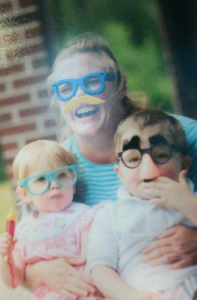 My name is Kate Henderson, and I am a mom of two. My big boy, AJ, is five; my little girl, Charlie, is two. My husband, Scott, and I have been married for just over eight years. He is a software engineer and is really the only person in the world who would put up with me. Kudos to Scott!
After more than a decade in "Corporate America," I am now (mostly) happily a stay-at-home mom. Actually, I'm a mom without a "paying" job who doesn't stay home much at all. Between swim lessons, ballet, library, school, gym, baseball, ice skating…and studying for my own career change, we're not home much. Did I mention I'm the president of my local mother's club and training for a half marathon? Yup, "stay at home" doesn't describe us much at all. Thankfully, my little one is quite happy to nap in the car.
I love shoes, bad TV, reading, cooking, and spending time with my friends.
I also love being a mom. And I love mom topics. I am a self-professed car-seat guru (keep 'em rear facing as long as possible!) and I think raising kids is about the funniest thing you can do. You can expect lots of humor from me, with the occasional missive on keeping those kiddos safe, while not setting off helicopter warnings. Education is a hot topic for me right now, and you'll see lots of "home learning" ideas.
If you're looking for tips on staying sane or organized, I am not the one for you. But I promise a glimpse into my life will amuse you and may even make you feel a little better about the chaos (or lack thereof) of your own life!