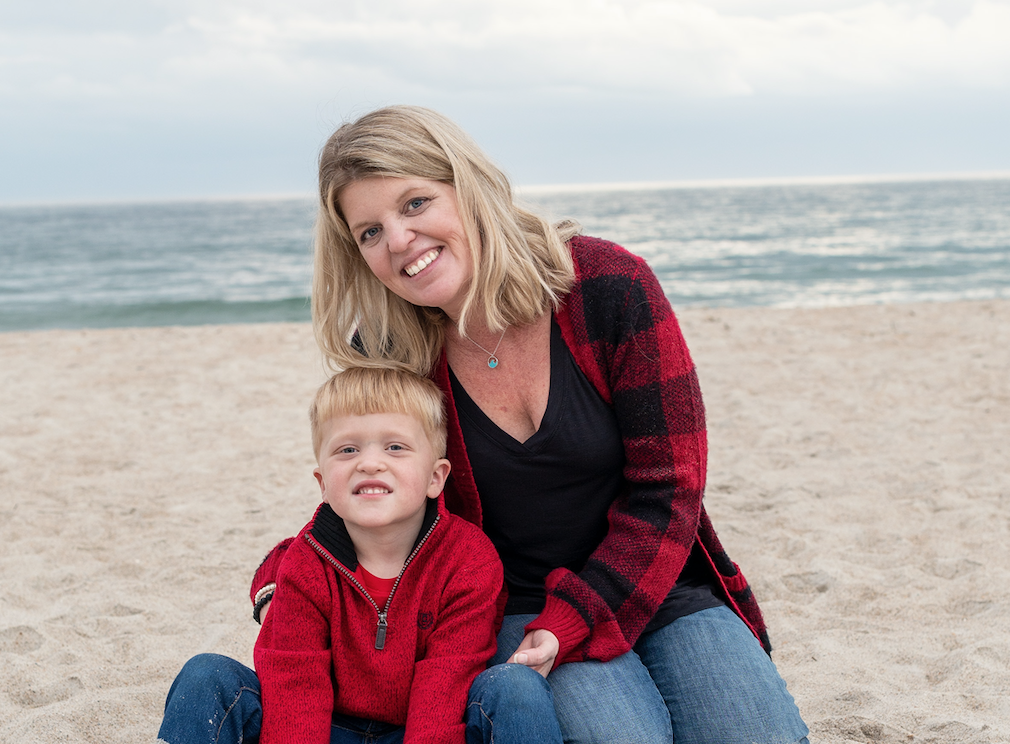 By: Mandy Lee
Every mom and every family has their own unique story. This is mine, and I encourage you to share yours. I hope my story is one of hope and courage. As a single mom, this is how I manage the holidays.
A little back story: when I was three months pregnant with my son Fisher, I unexpectantly and tragically lost his father. A time that was supposed to be one of the happiest periods of life was turned into a time of dealing with the five stages of grief (denial, anger, bargaining, depression, and acceptance). The statement "What doesn't kill us makes us stronger" is a fact, in my opinion. In my case, this strengthened my connection with my spirituality, and I believe God put people in my life to help me grow and used me as an instrument to help others. To find gratitude and beauty in pain is truly a gift that I was given.
I will never forget my first Christmas without David (my son's father). Fisher was just three months old, and it was all I could do to make it through. This was when I allowed myself to lower my expectations of making the holidays into a perfect Instagram story. I started some of my own holiday traditions and took some things off my "perfect family" plate:
Followed the "Something you want, something you need, something to wear, and something to read" rule, and of course one thing from Santa.
Was this hard? Yes, of course, I wanted to spoil my kid – for him to come downstairs and see a mountain full of presents to open for hours. Unfortunately, that is not practical for this mom (and come on, he was three months old). This also set a precedent for Christmases to come, and you know what? The kid is grateful and happy with a handful of gifts to open each year.
Pajamas will be worn all day. This is a day for me and my kid to relax and enjoy each other's company.
No long car rides between loved one's homes. There aren't too many days when get to be lazy and enjoy each other's time. I had to set this boundary with some family members, but to my surprise, most of them respected it. For those who didn't, I told them I was sorry that they were hurt by this decision and left it at that. We sit on the couch and watch movies, play with our new gifts, and nap. Anything that includes a nap easily turns into my favorite tradition.
Baking as a gift for others
I think this tradition got better when my child got to the age where he could help. We pick a day to bake all day for family, friends, and neighbors. The dollar store has some great cookie containers. I am not going into debt to buy gifts for people I can't afford, and my son and I make memories baking together. Passing out all the yummy treats we made is a ton of fun, and people love it.
The gift of giving
We are, without a doubt, blessed. One lesson that is important to share with my son is the joy of giving. My Dad instilled this to us as kids, and I wanted to pass this down to him. Every year, we have found a family to sponsor and purchase gifts off their wish list. We save up for this during the year in a giving bank. Fisher will do small chores and donate his funds to it. We then go shopping, and I let him pick everything out. We have a great time doing it, and I love teaching him to do good without credit. I have found that to have self-esteem, I need to do esteemable acts. I know Fisher feels great about himself by doing this.
No elaborate meals to cook!
I have been lucky enough to have my mom come up and spend the holidays with us since Fisher was born. We all decided that there would be no cooking on our first "new normal" Christmas and have carried that out through the years. We go and pick out all our favorite comfort foods (already made) and graze all day. The kitchen table is full of food and snacks, and when we feel like eating, we eat. There are no rules!
Here we are six years later, and a day that was once full of pain and sadness has grown into one of my favorite days of the year. Yes, the waves of grief still hit as hard as they did in that first year, but further and farther in between. Over the years, these traditions have been tweaked to what has worked for us. Find your own; there may be some trial and error, but that is ok.
I always had a fear that I was depriving my son of something, but guess what? My son is happy and healthy. He loves Christmas and never once told me he didn't have enough. About four years ago, my sister got divorced after a twelve-year marriage. She has three kids, and her first Christmas without her children was very hard on her. She has developed her own way of coping, and that is her story to tell.
Again, we all have our stories to tell. Share yours; turn your mess into a message. You'll never know whose heart you will touch. Keep your head up, Mommas, and if no one has told you today…. You got this and are doing a great job.