Our Community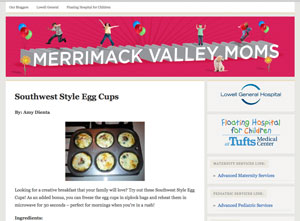 Welcome to Our Circle of Moms, our new online family health community! This community serves as a valuable resource for all parents in the Merrimack Valley and beyond. It features expert advice from physicians, popular children's health topics, community event listings and an easy way to connect with other parents in the community.
So dive in. Join a discussion thread or start a new one. Watch videos. Or check out the latest blog posts and add your comments. In fact, those who comment and share have a chance to win prizes in our weekly giveaways.
To join the conversation, visit our forum now.
WE ALSO INVITE YOU TO FOLLOW OUR BLOG.
Our Circle of Moms is a mommy blog developed in partnership by Lowell General Hospital and Floating Hospital for Children at Tufts Medical Center.
The blog features nine regular contributors, chosen through an online contest, who post on everything from healthy recipes to homework and more. Their articles are designed to spark dialogue and connection between local parents. In addition, the blog will feature occasional guest bloggers from Lowell General Hospital who will specifically address relevant pediatric health topics.
We invite all moms (and dads!) to subscribe to Our Circle of Moms.