By: Sue Anganes 
Looking back on it now, I don't know how I did it. I was only thirty six years old and my mother-in-law came to live with us. My husband and I had noticed that over the previous year or so, she had started to become confused. It happened gradually, but by the time we convinced her to live with us, it was apparent that she could not live on her own safely any longer. Yiayia' was diagnosed with Alzheimer's right after she moved in with us.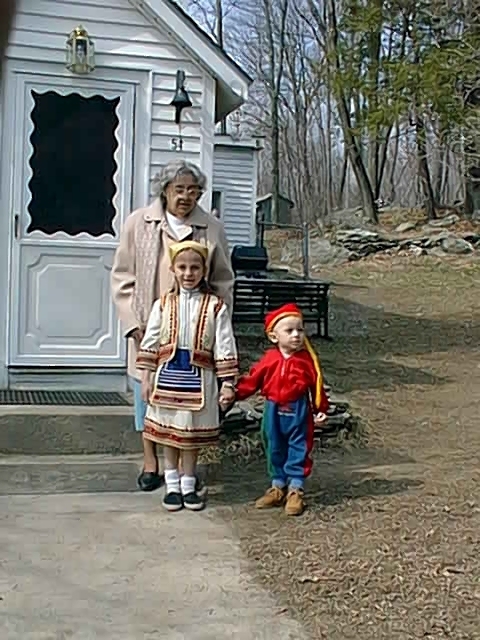 It was hard, at first, to get adjusted. I had five young children at the time, ages 13, 11, 19, 6, and 1. One month after my mother-in-law moved in, I found out I was pregnant with my sixth baby. My mother-in-law couldn't stay by herself at all. If we didn't keep an eye on her, she would eat something harmful to her or possibly wander away. It was a 24/7 job to care for her. It was truly like having another child to care for. All her personal care, her dressing, and feeding she needed help with. My kids were wonderful with helping to care for her. Often they would keep an eye on her when I needed to cook dinner. My youngest daughter would help feed her as the Alzheimer's disease progressed. By the time my oldest daughter was seventeen, she was enrolled in nursing school; and I truly think, she chose her career path because she had worked so closely helping to care for her grandmother. My oldest would often take the baby monitor that I had in my mother-in-law's bedroom, and listen for her at night. She would get up and help her Yiayia' when she called for us so that my husband and I could have a full night's sleep.
The four years that my mother-in-law spent living with us were the hardest four years of my life. There were days I would cry alone in my room from sheer exhaustion. I often thought I could not do it another moment longer. We had to give up going anywhere together as a family. We had no vacation and did not even go out to eat together for four years. Because she wasn't able to go with us, someone always had to stay behind and watch Yiayia'. There were no other family members to help care for her so it was our family's mission to do it ourselves.
Having three generations living under one roof –nine people- and caring for babies as well as a parent was a huge challenge; however, I will never regret doing so. I think that it molded our family into what it is today. My children have learned to be self sacrificing towards others. They have a respect for what it means to often put aside their desires and to help someone else. They also were able to redeem the precious time they had with their Yiayia' which can never be replaced. It was the hardest four years of my life, but I would not trade it for anything.
Αἰωνία ἡ μνήμη, Yiayia'
Pictured: Yiayia' with Anastasia and Raymond; heading out to the Greek Independence Day Parade in Lowell, Massachusetts, March 25, 2000.