By: Danielle McFadden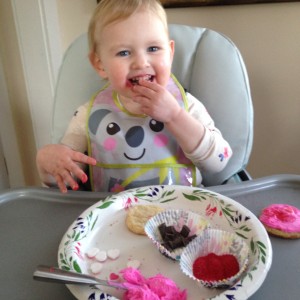 This year, we are getting into the Valentine's Day spirit early because I am due with baby #2 on the 16th (maybe sooner… or later)! It's so much fun having a two year old in the house that loves baking and arts & crafts!
Zoe and I have decorated desserts and made Valentine's to mail to our family. It's fun to teach her about baking, ingredients and making things for people that you love.
On Saturday we had a party with five of her cousins and friends. We made cards and decorated sugar cookies. It's so cute to see the little ones interacting with each other (ages 1-5)! And to think… Next year I'll have another child to love!
What are you doing to celebrate Valentine's Day?
Hint: If you're looking for affordable Valentine's Day crafts, check out the $1 area at Target. I got heart cards, glitter glue, foam and glitter hearts, stickers, etc. and likely it will last us next year too!