By: Sue Anganes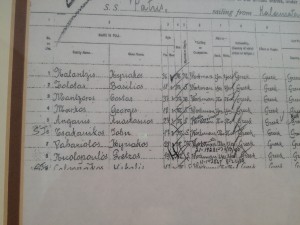 On August 28, 1909, my husband's grandfather, Anastasios Andrew Anganes, arrived at Ellis Island, on the ship The SS Patris.  He emigrated from a little Greek village called Loganikos, and had set sail from Kalamata, Greece on August 13. It took him fifteen days to cross the Atlantic, reach New York City, and to make America his new home.
Anastasios settled in Lowell, married, and had a son. Following Greek tradition, he named his son after himself, only switching the first and middle name. His son (my husband's father) was named Andrew Anastasios. When my husband was born, he was christened, Anastasios Andrew. Our oldest son was then named Andrew Anastasios. There are four generations of Anganes men (that I am aware of) that carried on this tradition of having the same first and middle names. I am not sure if my son, Andrew Anastasios, and his wife will continue with the tradition if they are blessed with a boy, but it would be nice. Of course, it is entirely their decision. (No pressure, Andrew and Amanda!)
My son, Andrew Anastasios, and his great grandfather, Anastasios Andrew also share something else in common. Andrew was married exactly one hundred-one years to the day after his great grandfather arrived on Ellis Island from Greece. This year, August 28, is the 105th anniversary of his arrival, and my son and his wife's fourth wedding anniversary.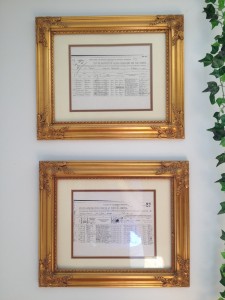 Naming our children was always very important to us. We wanted to give our children names that would connect them to their family and their family's history in a special and unique way. My mom was named Barbara Jean. I am Susan Jean, my daughter is Cassandra Jean, and her daughter (my granddaughter) is Amelia Jean. My second son was named Charles Raymond, after his great grandfather, Charles Raymond. My daughter, Anastasia Eleni, was named after my husband. Anastasia is the feminine form of Anastasios. Her middle name, Eleni, is the Greek form of the name Helen, which was her grandmother's name. My son, Raymond, was named after my father, Raymond, and my youngest son, Theodore, was named after his Great Uncle Theodore, who served our country in WWII and paid the ultimate price for his service.
We have framed copies of the SS Patris' manifest hanging on the wall of our living room. I gave them to my husband as a gift on Father's Day a few years ago. They are a continual reminder of how one man's journey across the ocean brought us to where we are today as a family. Our names and the names of our children carry the legacy of our family on to the next generation. Hopefully our legacy brings honor to those who came before us and offers an example to those who are after us.